A story of
passion & exploration
Meet Charlotte
I'm Charlotte, passionate about nature and product innovation. As a little girl, I enjoyed making my own drinks from the herbs I found in the charming fields of a nature reserve close to Ghent. Growing older, my love for nature and interest in food technology has led me to finish my academic studies as a bio-science engineer in 2017.
On a mid-summer Friday night during an afterwork drink with friends, I was looking for a non-alcoholic alternative for my favourite cocktails. The bartender served me a drink much too sweet for my liking. From that moment I started experimenting with herbs and botanicals to create NONA June.
I didn't stop experimenting, meanwhile I also developed NONA Spritz and NONA Ginger.
"My living room soon became my laboratory. Suddenly the room was filled with test samples and labels… all for the purpose of creating the perfect recipe for a non-alcoholic spirit which reminds of gin."
Guided by topchefs & sommeliers
I sought feedback from several top chefs and sommeliers to perfect the recipe of NONA June, NONA Spritz & NONA Ginger.
NONA June combines nine herbs in a balanced flavour profile with fresh citrus flavours followed by a spicy touch.
NONA Spritz is a sophisticated blend of 27 herbs with fresh citrus notes and a slightly bitter finish.
NONA Ginger combines 12 herbs in a balanced palette of flavours with fresh citrus flavours and a spicy finish.

These three spirits are the result of a complex distillation process.

First customers
The Jane
le gris
oak
boury
Our premium non-alcoholic spirits are produced using a highly intensive and innovative steam distillation process. With no alcohol and barely any sugar present as a flavour enhancer, it is less easy to find the perfect balance between different flavours. That is why NONA June, NONA Spritz & NONA Ginger combine as many as 9, 27 & 12 herbs respectively in one spirit.

The natural ingredients, sophistication, balance and complexity in NONA's palette of flavours makes these premium non-alcoholic spirits the perfect choice for any mocktail enthusiast. Discover them below!

NONA JUNE
THE FIRST BELGIAN NON-ALCOHOLIC SPIRIT WHICH REMINDS OF GIN

A refreshingly balanced blend of 9 distilled herbs. Based on juniper berries and citrus fruits, among others, with a spicy touch of basil and black pepper.

Mix 5cl NONA June with 10cl tonic. Finish with orange zest and a basil leaf.

Did you know.
'NONA' - nine in Latin - refers to the 9 herbs in NONA June? 'June' stands for juniper - English for juniper - the main ingredient in gin.

Get Nona June
NONA SPRITZ
'S WERELDS EERSTE ALCOHOLVRIJE SPRITZ
A perfectly balanced blend of 27 distilled herbs. Based on orange zest and blood orange, among others, with a subtle touch of bitter gentian root.

Mix 5cl NONA Spritz with 10cl tonic. Finish with an orange slice.

Did you know?
Gentian root is good for your health and has long been a versatile medicinal herb? Win-win!

Get Nona Spritz
NONA GINGER
THE FIRST GINGER-BASED NON-ALCOHOLIC SPIRIT
A balanced blend of 12 distilled spices with refreshing citrus notes and a spicy finish. Including organic ginger, yuzu & verbena.

Mix 5cl NONA Ginger with 10cl tonic. Finish with a lime wedge. "Reminds you of a Moscow Mule".

Did you know?
Turmeric can provide a natural coating at the top of the bottle. Shake the bottle before mixing NONA Ginger into your favourite non-alcoholic cocktail.

Get Nona Ginger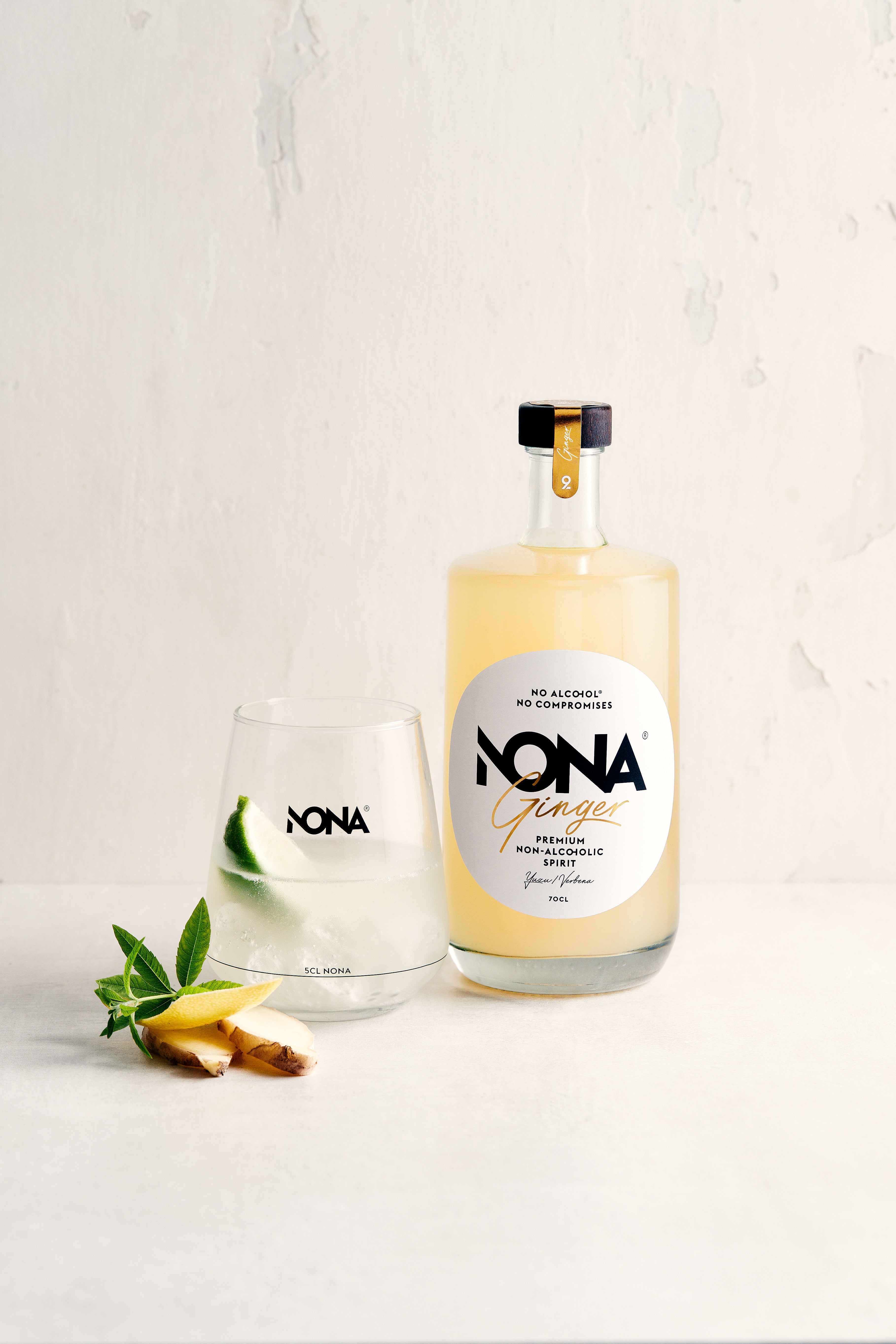 easy to mix & serve
Meet NONA June, the first Belgian non-alcoholic spirit to live that full cocktail experience at home.
DISCOVER all COCKTAILS